GROUNDING RINGS FROM EXOTIC ALLOYS IMPROVE MAG METER ACCURACY
Our all-metal grounding rings fit between flanges, helping to eliminate unwanted noise and extraneous signals carried in fluids through lines pipes. The rings are available with a variety of materials (including EXOTIC ALLOYS) – 316 SS, Hastelloy* B&C, Monel*, Alloy 20, Titanium, Zirconium, even Tantalum-in both 150# and 300# ANSI ratings.
AAF grounding rings are "paddle type" and are available in a standard thickness of 1/8″. Tantalum rings are also available in 1/16″ thickness as a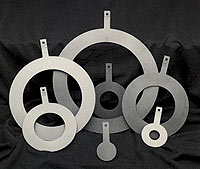 cost-saving measure. They are also available in other styles and can be specially fabricated according to the customer's own specifications.
These rings are frequently used in lined pipe where a grounding device is required. For example, grounding rings are very effective when utilized before and after a magnetic flow meter, fitting between flanges to ground-out unwanted signals in the fluid that can cause inaccuracies in the flow meter's readings.
Many of the exotic alloy grounding rings are maintained in stock in a variety of materials up to 6″. Other sizes are available up to 36″ in 2-3 weeks after receipt of order.
***AAF grounding rings are manufactured in the USA***
* Monel is a registered trademark of Special Metals Corporation
Hastelloy is a registered trademark of Haynes International, Inc.